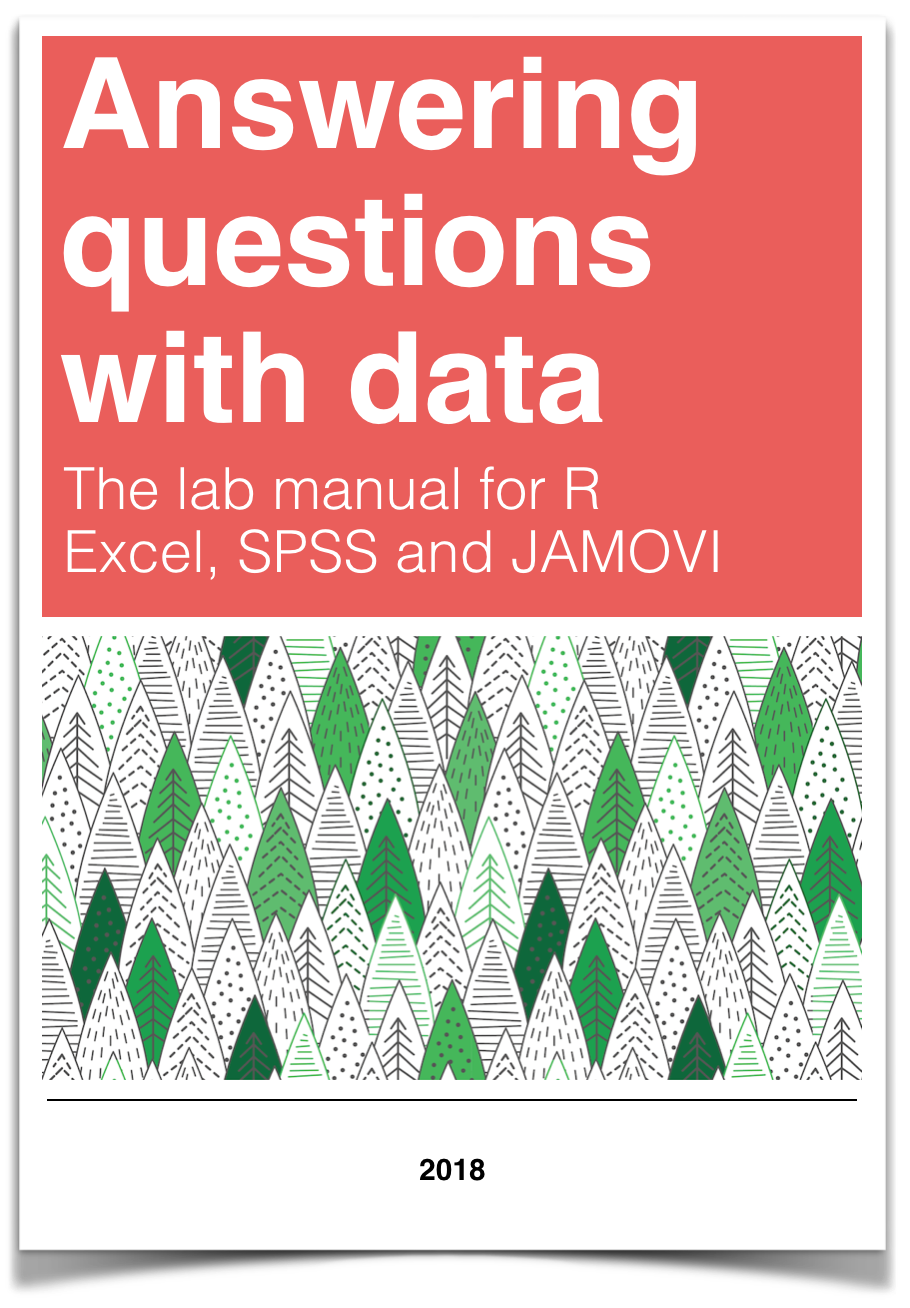 Chapter 4

Lab 4: t-Test (one-sample, paired sample)

Any experiment may be regarded as forming an individual of a 'population' of experiments which might be performed under the same conditions. A series of experiments is a sample drawn from this population. -William Sealy Gossett

This lab is modified and extended from Open Stats Labs. Thanks to Open Stats Labs (Dr. Kevin P. McIntyre) for their fantastic work.
4.1

Intro material for R and SPSS activities
4.1.2

Lab skills learned
Conducting a one-sample t-test
Conducting a paired samples t-test
Plotting the data
Discussing inferences and limitations
4.1.3

Important Stuff
citation: Mehr, S. A., Song. L. A., & Spelke, E. S. (2016). For 5-month-old infants, melodies are social. Psychological Science, 27, 486-501.
4.4

SPSS

In this lab, we will use SPSS to:
Perform a one sample t-test
Perform a paired samples t-test
Graph the data
Assess the relationship between a one-sample and a paired-samples t-test
Practice using descriptive statistics to give context to inferential statistics
4.5

JAMOVI - Week 9 - March 14th & 15th

This lab activity was developed by Erin Mazerolle, Christine Lomore, and Sherry Neville-MacLean.
4.5.1

Learning Objectives

In this lab, we will use jamovi to:
Perform a paired-sample t-test (an inferential statistic)
Use descriptive statistics and graphs to give context to inferential statistics
Report a paired-sample t-test in APA format
Perform a one-sample t-test
4.5.2

Research Context for Data Set

We will be working with the Psych 291 data set. This data set is from an online survey. Participants were students in a 200-level, Research Methods in Psychology course. They responded to questions about anxiety, stress, sleep, self-care, and substance use. We are using a subset of the data from the survey for this lab.

The survey was delivered to the same class of students twice during the semester - once early in the term and once immediately after the course midterm. The person who constructed the data file used T1_ and T2_ before variable names to denote whether the data came from the beginning of the term (T1) or immediately after the midterm (T2).

Before you start, please look at the variable T2_sleep_hours. Examine the minimum and maximum scores. Do you have concerns about the data? You should. It is not possible to sleep 42 hours per night. Delete this meaningless data from line 13. Then, as you follow along, you should get the same answers as depicted in this chapter/section.
4.5.4

Writing results in APA format

We can write sentences in APA format to describe our results. Such sentences are what you tend to see in Results sections of research papers. For the paired t-test example above, we would write a sentence such as:

Using a paired t-test, we observed a significant difference in sleep duration between the beginning of term and midterms (t(76) = 2.70, p = .009, d = 0.31). Mean (standard deviation) sleep duration at the beginning of term was 7.03 (1.14) hours, dropping to 6.64 (1.30) hours at midterms. The mean difference was 0.39 hours (95% CI [0.10, 0.67]).

Can you find where all the numbers in the sentence came from in the two tables?

A few notes about APA format:
Always note the name of the test you performed (in this case, paired t-test).

We usually round to two decimal places, except for p-values. If you know the exact p-value, you round to two or three decimal places, except if that means it is p = .000. In this case, you would indicate p < .001.

Do not include a leading 0 before the decimal for the p-value (p = .009 not p = 0.009)
Yes, I'm serious. No, I don't know why. Yes, it does seem a bit silly. Yes, you lose points if you don't adhere to APA format when requested to do so.
Pay attention to spaces, parentheses, etc. APA is very picky about that. For example, it's t(76) = 2.70 not t(76)=2.70.

Symbols such as M, SD, t, p, and d are italicized.
4.5.5

Performing a one-sample t-test

Sometimes you are interested in whether a sample's mean is different from a specific value. For example, you might wonder whether students are getting 8 hours of sleep per night at the start of term. To ask this question, we use a one-sample t-test. Click Analyses menu, then choose T-Tests, and then, One-Sample T-test: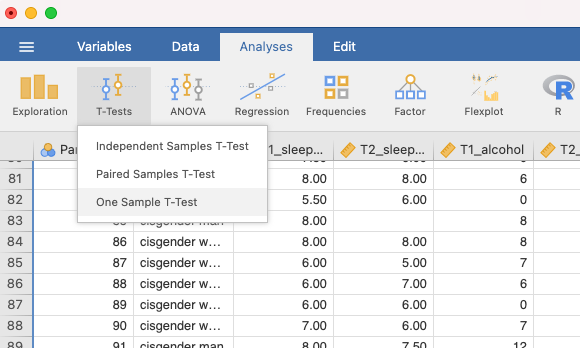 Move your variable of interest (T1_sleep_hours) into the Dependent Variables box.
Under Hypothesis, be sure to set your "Test value" to 8. If you leave it at 0, it will test whether the mean sleep duration is equal to 0. So, your null hypothesis is that sleep duration at the start of term is equal to 8 hours, i.e., \(H_0: \mu = 8\)
Your output will look like this:
The p-value is less than .05, so we reject our null hypothesis. Sleep duration is significantly different from 8 hours per night at the beginning of term.
You can also add the outputs we included for the paired t-test, including mean difference, confidence interval, descriptives, and descriptive plots.
4.5.7

Practice Questions
Canada's Healthy Drinking Guidelines suggest that women should consume "no more than 2 standard drinks on most days and no more than 10 drinks per week." Using the data collected in PSYC 291, select only those participants who identify as cisgender women (hint: review lab manual section on filters). Compare the number of drinks women in PSYC 291 consumed in the week prior to Time 1 (September) to the healthy drinking standard. Conduct the appropriate t-test. What can you conclude? Write your answer in APA format, including the 95% confidence interval, and effect size (Cohen's d).

Is there a significant difference in cannabis use between the beginning of term versus midterms? Report your results in APA format.

Consider the sleep duration example. Use JAMOVI to perform a directional test, such that the alternative hypothesis is that sleep duration at the beginning of term is longer than sleep duration at midterms. Compare your results to the non-directional test. What are the similarities and what are the differences?

Does it matter in what order you input the variables for the paired t-test? Why or why not? If you aren't sure, given it a try!